Your Birthday - born 4th, February
Today - discover the make-up of people born on 4th, February !
Tune in each and every day to see the traits and characteristics people born on different days of the year hold.
Born today on the 4th, February :
Some of the women born today are cleanerholics and some of the men carcleanerholics. February 4, which is a fun-loving, frivolous creature has this one Achilles' heel about spick and span surroundings, odd when it goes with late-night partying, high heels and a penchant for taking off its clothes in public. They have great bodies so the streakerette streakerette in them is fun for onlookers. Find them in clubs taking off blouses, then pale green silk bras, or tight jeans, then maybe even the red cotton boxer shorts. Of course they do it on beaches, but may try it in restaurants and even at the office Christmas party. Which brings us to 4's general work behaviour: never completely serious. Complete aces at the computer they earn snoozles of dough, can't be bothered with rules and better not try to stay in a big company for long. It only leads to eating fish and chips at the desk when there's a food-at-the-computer ban, and throwing paper clips at intense colleagues. Worse still, the men are such appalling, if innocent, gossips they are a walking E-Male. And the F-E-Male February 4's not a lot better. This little toots is better off, like so many Aquarians, running his own business. If either sex do, they have all the fun they like, never impose a no smoking or tidy desk policy and certainly not a pick-up-the-phone-after-three-rings policy. They also work hard and make lots of money. Which they rush out and spend, on beautiful new dining-tables and flash cars. And then, as we've said, vigorously over-clean. Fame is written in the stars for some born today, which February 4 adores because it gets her the best tables in restaurants and opportunities to sign lots of autographs each time she goes to Tesco's. The flip side of fame for February 4 is sometimes notoriety for some extravagant act, which neither sex mind much either.
Body
If you are going to take your clothes off, you might as well have extra beautiful breasts - if you're a woman. Men don't have so many erogenous zones to show off. Try these essential oil recipes, also invaluable for private display. Bosom Enhancer. Massage breasts once a week with the following blend to tone and enlarge: 2 drops geranium, 2 drops clary sage, 2 drops ylang ylang, 2tsp camellia oil. Petite Bust. To tone and reduce, take 1 drop rose oil, 1 tbsp jojoba. Massage this blend into the bosom. Jojoba emulsifies fat tissue, while rose is astringent.
Mind
Dreaming of undressing in public may reflect a rebellious streak, refusing to play roles others cast you in. Also warns where such an attitude may lead. It can also express fears that others may see through you.
Confidential advice - from a live reader
Call a hand chosen Psychics and Mediums on 0906 539 1614 for answers to any questions which could be holding you back!
David : Available
Most psychics will state "I have been psychic all my life", and that is true, we are all psychic , all the animals including those that swim and those that fly are psychic. Humans use spoken language to communicate complex ideas, but often just a look will convey more meaning than a thousand words. Language is only a few thousand years old, yet we ,as a social animals have had a wordless means of communication for millions of years, we did it psychically, we do it still. How often do we hear a pet owner say, "He understands everything I say" Yes, he does, and he also understands everything you think also, he doesnt think about , he just does it, he just knows it, he doesnt know how, he doesnt need to know how, he just does it. That is how I work, I just know it, I dont know how or why, I just do it.I dont exaggerate, and I dont minimise, I dont ask questions, I just concentre very hard upon the person I am communicating with. Almost all of my clients are regulars, some of them have been with me 10 years.
Speak to David, or one of the other amazing Love and Romance Psychics by calling 0906 539 1614 now and entering David's PIN number: 6788 or book a reading online or by calling freephone 0808 206 4506.
Grace-Marie : Available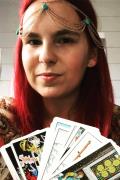 I am a Psychic with 4 years of experience, who offers Tarot Readings, and also uses my Pendulum, Crystals, and Angel & Oracle Cards. Im here to help guide you with general readings and can pick up on any issues you may be facing. Please come into my readings with a positive attitude! I look forward to helping you our your journey.
Speak to Grace-Marie, or one of the other amazing Love and Romance Psychics by calling 0906 539 1614 now and entering Grace-Marie's PIN number: 4099 or book a reading online or by calling freephone 0808 206 4506.
Sherrey : Available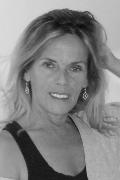 Sherrey is an experienced Medium and clairvoyant. Sherrey will give you enough details about a loved one that you will instantly feel comforted and that you are speaking to a reader who truly cares and understands. Sherrey certainly doesnt give vague answers. She is a very warm woman that will tell you what she sees. It may not be what you want to hear but it will help you make the decision that is right for you.
Speak to Sherrey, or one of the other amazing Love and Romance Psychics by calling 0906 539 1614 now and entering Sherrey's PIN number: 4436 or book a reading online or by calling freephone 0808 206 4506.