Daily Tarot Scope
Welcome to my Daily TarotScope service. Every day an Astro-Tarot card from my pack is drawn for your Birth Sign and positioned within one of the twelve possible House Positions.
You should use this reading to reflect on your life at the present time. The house positions denote a series of aspects in your life - such as Love, Romance, Money and Happiness.
ARIES (Mar21/Apr20):
Hierophant in house position 10. Understanding others is the key to career success now, whether you're at the top of your tree or a little fish in a big pond. Being honest with people, telling the truth and having the confidence to reveal the real you will also work wonders.
TAURUS (Apr21/May21 ):
Gemini in house position 8. Sexual peccadilloes are calling, and you're in the mood for experimenting! If your other half won't play ball then maybe your sex life needs to be teased out of its rut? You may have to sign some official forms, but read the small print first.
GEMINI (May22/June21 ):
Rat in house position 4. Your home and family will be important to you now, even though you're restless. Domestic changes are in the offing and could bring the security you seek. One of the clan may be deceitful or dangerous, and a woman may spread malicious gossip.
CANCER (June22/July23):
Judgement in house position 6. If you've made any bloomers or howlers at work or in your daily doings then this is when they'll come to light. On the other hand, if you've been slaving away with nowt to show for it, at last you'll receive the recognition you deserve. Well done!
LEO (July24/Aug23):
Virgo in house position 12. Anyone seeking sympathy will get short shrift from you now, for you've no time for folk with sob stories or who feel sorry for themselves. Even so, try not to be too harsh, moralistic or judgmental - have you never made mistakes or been miserable?
VIRGO (Aug24/Sept23):
Pluto in house position 5. Take a deep breath for you're about to plunge into very profound and intense amorous waters indeed. Keep an eye on a child's difficult and complex behaviour. Any venture or enterprise based on your talents and skills is set for success.
Confidential advice - from a live reader
Call a hand chosen Psychics and Mediums on 0906 539 1614 for answers to any questions which could be holding you back!
David : Available
Most psychics will state "I have been psychic all my life", and that is true, we are all psychic , all the animals including those that swim and those that fly are psychic. Humans use spoken language to communicate complex ideas, but often just a look will convey more meaning than a thousand words. Language is only a few thousand years old, yet we ,as a social animals have had a wordless means of communication for millions of years, we did it psychically, we do it still. How often do we hear a pet owner say, "He understands everything I say" Yes, he does, and he also understands everything you think also, he doesnt think about , he just does it, he just knows it, he doesnt know how, he doesnt need to know how, he just does it. That is how I work, I just know it, I dont know how or why, I just do it.I dont exaggerate, and I dont minimise, I dont ask questions, I just concentre very hard upon the person I am communicating with. Almost all of my clients are regulars, some of them have been with me 10 years.
Speak to David, or one of the other amazing Love and Romance Psychics by calling 0906 539 1614 now and entering David's PIN number: 6788 or book a reading online or by calling freephone 0808 206 4506.
Grace-Marie : Available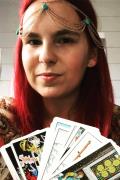 I am a Psychic with 4 years of experience, who offers Tarot Readings, and also uses my Pendulum, Crystals, and Angel & Oracle Cards. Im here to help guide you with general readings and can pick up on any issues you may be facing. Please come into my readings with a positive attitude! I look forward to helping you our your journey.
Speak to Grace-Marie, or one of the other amazing Love and Romance Psychics by calling 0906 539 1614 now and entering Grace-Marie's PIN number: 4099 or book a reading online or by calling freephone 0808 206 4506.
Marrissa : Available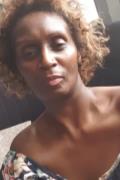 Marrissa is a fantastic Clairvoyant, clairsentient and tarot card reader. She has qualifications in Tarot and Cartomancy, and is a natural born psychic. Marrissa specialises in relationships, future romance, work and home life. Her aim is to empower you so you feel positive and confident about the future.
Speak to Marrissa, or one of the other amazing Love and Romance Psychics by calling 0906 539 1614 now and entering Marrissa's PIN number: 4110 or book a reading online or by calling freephone 0808 206 4506.
LIBRA (Sept23//Oct23)
:
Emperor in house position 1. You're exuding power and authority from every pore now and are certainly not in the mood for playing games or mucking about. Instead, make wise and controlled use of this strong-minded time whilst you get the chance, but don't turn into a dictator!
SCORPIO (Oct24/Nov22):
Horse in house position 2. Continue with your current cavalier capers with cash and you'll soon spend the lot! Instead, seek the advice of sober and sage folk in the know and investigate investments and savings schemes. The more others help you, the better you'll fare.
SAGITTARIUS (Nov23/Dec2l):
Midheaven in house position 7. If your partner's as weak as dishwater then you'll want nowt to do with them now, for you're only interested in folk as ambitious as yourself. Anyone who lets you down will be dropped like a hot brick, but the ideal relationship will head for success.
CAPRICORN (Dec22/Jan20):
Ace of Swords in house position 11. It's time to launch long-term plans and promote your ideas, so don't delay! You'll do best it you work with others in a group, team or organisation. An army of acquaintances surrounds you, but try to cultivate a true-blue friend too.
AQUARIUS (Jan21/Feb19):
Ox in house position 9. Part of you is wary of taking risks but you'll throw opportunity down the drain now unless you take a chance and discover a new side of life. Be adventurous and Lady Luck will smile on you! Cosmopolitan connections will be worth a small fortune.
PISCES (Feb20/Mar20):
Tower in house position 3. A bolt from the blue is soon to strike your everyday world. Maybe there'll be a rift with a neighbour, news about a close relative or problems in your community, but whatever it is will lead to the birth of a brand new you.